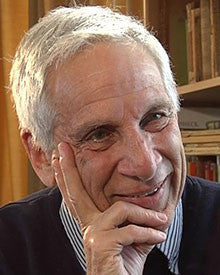 (b. 1932)
Alexander Goehr (born 10 August 1932 in Berlin) is an English composer and academic. Goehr was born in Berlin in 1932, the son of the conductor and Schoenberg pupil Walter Goehr. In his early twenties he emerged as a central figure in the Manchester School of post-war British composers. In 1955–56 he joined Oliver Messiaen's masterclass in Paris. Although in the early sixties Goehr was considered a leader of the avant-garde, his oblique attitude to modernism—and to any movement or school whatsoever—soon became evident. In a sequence of works including the Piano Trio (1966), the opera Arden Must Die (1966), the music-theatre piece Triptych (1968–70), the orchestral Metamorphosis/Dance (1974), and the String Quartet No. 3 (1975–76), Goehr's personal voice was revealed, arising from a highly individual use of the serial method and a fusion of elements from his double heritage of Schoenberg and Messiaen. Since the luminous 'white-note' Psalm IV setting of 1976, Goehr has urged a return to more traditional ways of composing, using familiar materials as objects of musical speculation, in contrast to the technological priorities of much present-day musical research.
Alexander Goehr Composition Timpani and Percussion Requirements
...a musical offering (J. S. B. 1985)...
No Timpani + 1 percussion
Tenor drum, bass drum, wood drum, metal drum, tom tom, bongos, hi-hat, maracas, claves
__________________________________________________________________________________
Arianna
No Timpani + 4 percussion
2 baroque timpani, tenor drum, small suspended cymbal, hi-hat, wood block, 3 tabors, tambourine, small tambourine, castanets, triangle, small tam-tam, sleighbells, xylophone, glockenspiel, vibraphone, tubular bells, antique cymbals, C4 gong, rainstick
__________________________________________________________________________________
Metamorphosis/Dance
No Timpani + 3 percussion
Snare drum, orchestral bass drum, military drum, 4 tom toms, 5 bongos, clash cymbals, suspended cymbal, wood block, temple blocks, slapstick, triangle, tam tam, gong, xylophone, glockenspiel, conga, maracas, claves
__________________________________________________________________________________
Romanza for cello & orchestra
Timpani + 2 percussion
Snare drum, orchestral bass drum, 2 suspended cymbal, tambourine, triangle, tam tam, Chinese gong, lions roar
__________________________________________________________________________________
The Death of Moses
No Timpani + 2 percussion + celeste
Marimba, vibraphone, tubular bells, timpani, suspended cymbal, tam tam, 2 Chinese gongs, gong, 3 anvils, celeste
__________________________________________________________________________________
Violin Concerto
Timpani + 3 percussion
Orchestral bass drum,  2 tam tams, clash cymbals, suspended cymbal
__________________________________________________________________________________


All composer images remain the copyright of their respective owners. Any use of images by this website is purely for educational purposes only and not commercial gain. If you wish for your image to be removed, please email us at info@bellperc.com and we will remove this as soon as possible