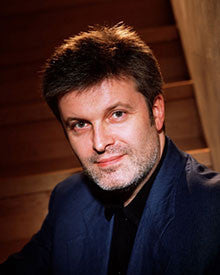 (b. 1959)
James MacMillan is the pre-eminent Scottish composer of his generation. He attracted attention with acclaimed BBC Proms premiere of The Confession of Isobel Gowdie in 1990. MacMillian's music combines rhythmic excitement, raw emotional power and spiritual meditation. His percussion concerto Veni, Veni, Emmanuel premiered in 1992 has received over 400 performances. His music is programmed worldwide by orchestras including London Symphony Orchestra, New York and Los Angeles Philharmonics and Cleveland Orchestra. MacMillan was the featured composer at the Edinburgh Festival in 1993, Southbank Centre in 1997 and the BBC Barbican Composer Weekend in 2005. Champions of his music include soloists Evelyn Glennie, Wayne Marshall, Colin Currie, Jean-Yves Thibaudet and conductors Slatkin, Rostropovich, Sir Colin Davis, Sir Andrew Davis, Vänska, Alsop, Maksymiuk, Runnicles and Brabbins.
Composition Timpani and Percussion Requirements
...as others see us...
No Timpani + 1 percussion
Tabor, marimba, wood block, 4 roto toms, 3 suspended cymbals (high/med/low), snare drum
__________________________________________________________________________________
A Deep but Dazzling Darkness
No Timpani + 2 percussion
1) vibraphone, 5 cowbells, 5 temple blocks, bongos, orchestral bass drum, 4 Chinese Opera gongs 2) tuned gongs, tambourine, snare drum, kit bass drum, hi-hat, tam tam, watergong
__________________________________________________________________________________
A Scotch Bestiary
Timpani + 4 percussion
2 octaves crotales, marimba, whip, lion's roar, 2 typewriters, tubular bells, snare drum, 4 brake drums, vibraphone, bongos, 4 tom toms, orchestral bass drum, drum kit, xylophone, 2 wood blocks, 5 temple blocks, tambourine, tuned gongs, suspended cymbal, tam tam, glockenspiel, 2 triangle, Herden bells, vibraslap, large guiro, bodhran, water gong, clash cymbals, sizzle cymbal, hi-hat
__________________________________________________________________________________
Búsqueda
No Timpani + 2 percussion
1) vibraphone, 2 tam tams, drum kit, wood block, 2 spring coils, sleighbells, 2) large tam tam, drum kit, maracas, wood block, 2 spring coils, sleighbells, claves
__________________________________________________________________________________
Britannia
Timpani + 3 percussion
1) Bodhran, triangle, flexatone, duck call, vibraphone, large tam tam, 2) 2 wood blocks, 2 cowbells, snare drum, coconut shells, 5 tom toms, 3) clash cymbals, orchestral bass drum, whip, klaxon, duck call, ref's whistle, car horn
__________________________________________________________________________________
Cantos Sagrados - (orchestral version)
Timpani + 3 percussion
Vibraphone, anvil effect, clash cymbals, sizzle cymbal, tubular bells, snare drum, suspended cymbal, 2 tuned gongs (B3,D4), orchestral bass drum, tam tam
__________________________________________________________________________________
Catherine's Lullabies
No Timpani + 2 percussion
1) Metal wind chimes, suspended cymbal, snare drum. 4 tom toms, 2 octaves crotales, 2) antique cymbals, tubular bells, timbales, large tam tam
__________________________________________________________________________________
Cello Concerto
Timpani + 3 percussion
Glockenspiel, xylophone, vibraphone, clash cymbals, suspended cymbal, sizzle cymbal, orchestral bass drum, snare drum, large tam tam, small tam tam, tuned gongs, 3 bongos, large thundersheet, anvil effect, 2 jam blocks, large plywood cube
__________________________________________________________________________________
Epiclesis
Timpani + 4 percussion
Marimba, thundersheet, temple bowl, 2 tam tams, (lg & sm), 2 bass bows, 4 Gamelan gongs, 2 vibraphones with bows, 2 octaves crotales, sanctus bells, 4 cowbells, 6 tom toms, bongos, glockenspiel, clash cymbals, anvil, 1 octave chromatic cowbells, tubular bells, orchestral bass drum, bell tree, 4 wood blocks, triangle, snare drum
__________________________________________________________________________________
Exsultet (for brass ensemble)
Timpani + 2 percussion
Snare drum, tubular bell, large tam tam, small tam tam
__________________________________________________________________________________
From Ayrshire
Timpani + 1 percussion
1) orchestral bass drum, bell tree, 2 octaves crotales, whip
__________________________________________________________________________________
Inés de Castro
No Timpani + 4 percussion
Orchestral bass drum, 2 tam tams with bows, 2 cowbells, 2 wood blocks, log drum, vibraphone with bow, 2 octaves crotales, tubular bells. 2 handbells, sizzle cymbal, mark tree, clash cymbals, gong, suspended cymbal, thundersheet with superball, finger cymbals, anvil, xylophone, flexatone, snare drum, 2 bongos, 4 tom toms, 5 temple blocks, glockenspiel, triangle, lion's roar, metal plate
__________________________________________________________________________________
Into the Ferment
Ensemble - No Timpani + 1 percussion
Tam tam, 5 temple blocks, vibraphone, orchestral bass drum, 3 suspended cymbals, 5 tom toms, snare drum
Orchestra - Timpani + 1 percussion
Orchestral bass drum, snare drum, glockenspiel, triangle, suspended cymbal
__________________________________________________________________________________
Magnificat and Nunc Dimittis
Timpani + 2 percussion
Vibraphone, glockenspiel, tubular bells, tam tam, suspended cymbal
__________________________________________________________________________________
Ninian
Timpani + 3 percussion
Vibraphone, whip, 2 timbales, 5 tom toms, snare drum, suspended cymbal, 2 tam tams, tubular bells, lions roar, orchestral bass drum, 2 octaves crotales, marimba, tuned gongs, 2 cowbells, 2 congas, anvil effect, 2 bell plates, sizzle cymbal, tam tam
__________________________________________________________________________________
Parthenogenesis
No Timpani + 1 percussion
Glockenspiel, vibraphone, tuned gongs, 2 wood blocks, 5 tom toms, 2 bongos, snare drum, orchestral bass drum, suspended cymbal, sizzle cymbal, 2 tam tams, (sm,lg)
__________________________________________________________________________________
Quickening
Timpani + 4 percussion
Handbells, 3 temple bowls (dobaci), marimba, high triangle, rainstick, 2 wood blocks, 2 congas, 5 temple blocks, 4 brake drums, finger cymbals, glockenspiel. steel drum, 3 wood blocks, snare drum, clash cymbals, suspended cymbal, tam tam, (med), vibraphone, tuned gongs, 5 cowbells, 5 tom toms, tam tam, tubular bells, 3 triangles, (high,med,low), whip, log drum, orchestral bass drum, suspended cymbal
__________________________________________________________________________________
Sinfonietta
No Timpani + 2 percussion
Triangle, vibraphone, snare drum, wood blocks, tam tam, glockenspiel, 2 cowbells, 2 congas, orchestral bass drum, suspended cymbal, tubular bells, 2 tom toms, anvil, large tam tam, large sizzle cymbal
__________________________________________________________________________________
Sowetan Spring
Timpani + 4 percussion
4 congas, snare drum, clash cymbals. metal wind chimes, 2 timbales, tam tam, 2 tom toms, 3 suspended cymbal, orchestral bass drum
__________________________________________________________________________________
St John Passion
Timpani + 1 percussion
Tubular bells, tuned gongs, triangle, sanctus bells, 5 temple blocks, snare drum, orchestral bass drum, suspended cymbal, sizzle cymbal, tam tam
__________________________________________________________________________________
Stomp (with Fate and Elvira)
Timpani + 2 percussion
Snare drum, suspended cymbal, hi-hat, bodhran, spoons
__________________________________________________________________________________
Symphony No.2
No Timpani + 2 percussion
Glockenspiel, vibraphone, tubular bells, bell tree, bongos, snare drum, orchestral bass drum, clash cymbals, tam tam
__________________________________________________________________________________
Symphony No.3: 'Silence'
Timpani + 4 percussion
Marimba, tuned gongs, 5 temple blocks, snare drum, suspended cymbal, glockenspiel, steel drums, orchestral bass drum, 2 octaves crotales, tubular bells, 3 heavy anvil effects, 2 congas, timbales, medium tam tam, 1 octave tuned cowbells, vibraphone, large tam tam, thundersheet
__________________________________________________________________________________
Symphony: 'Vigil'
Timpani + 3 percussion
Suspended cymbal, sizzle cymbal, wood block, tubular bells, wooden cube, glockenspiel, tam tam, tuned cowbells, thundersheet, metal plate, triangle, vibraphone, tuned gongs, orchestral bass drum, 5 temple blocks, 2 congas, timbales, snare drum, suspended cymbal, antique cymbal, xylophone, 5 tom toms
__________________________________________________________________________________
The Berserking
Timpani + 3 percussion
1) 2 timbales, glockenspiel, large tam tam, mark tree, 2 octaves crotales, high tom tom, xylophone, snare drum(high) 2) snare drum(med), anvil, vibraphone, tom tom. (low) 3) very large orchestral bass drum, loud claves, tubular bells, antique cymbals, snare drum (low)
__________________________________________________________________________________
The Birds of Rhiannon
Timpani + 4 percussion
Glockenspiel, tuned gongs, tubular bells, 6 bass bells, vibraphone, marimba, 3 wood blocks, 6 temple blocks, 3 cowbells, guiro, whip, rainstick, 3 metal sheets (sm,med,lg), thundersheet, bongos, bodhran, brake drum, snare drum, tenor drum, orchestral bass drum, 2 flexatones, suspended cymbal, 2 water gongs (sm,lg), 2 Chinese opera gongs, tam tam
__________________________________________________________________________________
The Confession of Isobel Gowdie
Timpani + 2 percussion
4 congas (2 high, 2 low), timbales (high,low), xylophone, 3 tam tams (sm/med/lg), anvil, tubular bells, snare drum, vibraphone, orchestral bass drum, 60" tam tam
__________________________________________________________________________________
The Death of Oscar
Timpani + 2 percussion
Glockenspiel, tubular bells, triangle, snare drum, orchestral bass drum, tam tam
__________________________________________________________________________________
The Exorcism of Rio Sumpúl
No Timpani + 1 percussion
2 timbales, 2 snare drum (high/low), tam tam, bell tree, suspended cymbal, wind chimes, kit bass drum, anvil, glockenspiel, 5 tom toms
__________________________________________________________________________________
The Keening
Timpani + 3 percussion + celeste
Marimba, glockenspiel, xylophone, snare drum, lion's roar, tam tam, tubular bells, tom tom, gong, orchestral bass drum, clash cymbals, vibraphone, 3 suspended cymbal, tam tam, celeste
__________________________________________________________________________________
The Sacrifice
Timpani + 3 percussion
Glockenspiel, vibraphone, triangle, whistle, rainstick, whip, tambourine, bodhrán, orchestral bass drum, 2 Chinese opera gongs, tubular bells, 5 wood blocks, anvil, snare drum, suspended cymbal, 2 octaves crotales, tuned gongs, guiro, vibraslap, anvil effect, tenor drum, clash cymbals, tam tam
__________________________________________________________________________________
The World's Ransoming
Timpani + 1 percussion
2 octaves crotales, tubular bells, agogo bells, 2 temple blocks, bongos, large tam tam, small tam tam, 5 tom toms, snare drum, large sizzle cymbal. large splash cymbal, large plywood cube
__________________________________________________________________________________
Veni, Veni, Emmanuel
Solo percussion
2 tam tams, (large/medium), 2 snare drums, 2 congas, 6 tom toms, 2 timbales, kit bass drum, 6 Chinese gongs, 6 temple blocks, log drum, 2 wood blocks, 2 cowbells 5 octave marimba, mark tree, large suspended cymbal, sizzle cymbal, 6 bass tubular bells - Orchestral musicians to play bells or two pieces of loud clanging metal at end of work
__________________________________________________________________________________
Visitatio Sepulchri
Timpani + 1 percussion
2 cowbells, 2 wood blocks, bongos, timbales, snare drum, 2 tam tams, 5 tom toms, 5 temple blocks, glockenspiel, tubular bells, orchestral bass drum, clash cymbals, bell tree
__________________________________________________________________________________


All composer images remain the copyright of their respective owners. Any use of images by this website is purely for educational purposes only and not commercial gain. If you wish for your image to be removed, please email us at info@bellperc.com and we will remove this as soon as possible