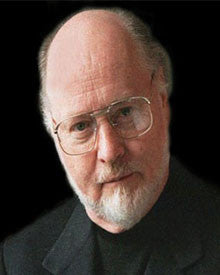 (b. 1932)
John Williams is an American composer, conductor and pianist. According to IMDb.com, he is "one of the best known, awarded, and financially successful composers in US history." In a career spanning over six decades, he has composed some of the most recognisable film scores in the history of motion pictures, including the Star Wars saga, Jaws, Superman, the Indiana Jones films, E.T. the Extra-Terrestrial, Home Alone and its sequel, Hook, Jurassic Park, Schindler's List, War Horse, and the first three Harry Potter films. He has had a long association with director Steven Spielberg, composing the music for all but two (Duel and The Color Purple) of Spielberg's major feature films. Other notable works by Williams include theme music for four Olympic Games, NBC Sunday Night Football, the NBC Nightly News, the rededication of the Statue of Liberty and the television series Lost in Space and Land of the Giants. Williams has also composed numerous classical concerti, and he served as the principal conductor of the Boston Pops Orchestra from 1980 to 1993; he is now the orchestra's conductor laureate.
John Williams Composition Timpani and Percussion Requirements
Star Wars (suite)
Timpani
Int'l 32/29/26/23 Prem 32/30/28/25
4 percussion
Vibraphone, glockenspiel, tam tam, snare drum, suspended cymbal, clash cymbals, orchestral bass drum
__________________________________________________________________________________
Theme from E.T.
Timpani + 4 percussion
Clash cymbals, tubular bells, glockenspiel, vibraphone, suspended cymbal
__________________________________________________________________________________


All composer images remain the copyright of their respective owners. Any use of images by this website is purely for educational purposes only and not commercial gain. If you wish for your image to be removed, please email us at info@bellperc.com and we will remove this as soon as possible