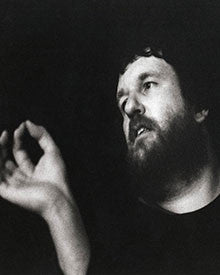 (b. 1952)
Born in Glasgow on June 12, 1952, Knussen grew up near London where his father was principal double bass of the London Symphony Orchestra. It was with the LSO that he made his debut in April 1968, conducting his First Symphony in London and in Carnegie Hall, New York. Oliver Knussen attended the Purcell School, and studied composition initially with John Lambert. In 1970 he was awarded the first of three fellowships to Tanglewood, where he studied with Gunther Schuller, and for the next few years divided his time between England and the USA. During this time he completed several works which were subsequently widely performed on both sides of the Atlantic and established his early reputation, notably Hums and Songs of Winnie-the-Pooh (1970) the Second Symphony (Margaret Grant Prize, Tanglewood 1971), Océan de Terre (1972-3), and Ophelia Dances (Koussevitzky centennial commission, 1975). In 1975 Knussen returned permanently to the UK and the appearance of subsequent works, notably Coursing (1979) and the Third Symphony (1973-9) placed him in the forefront of contemporary British music. This latter work enjoyed a striking international success in the wake of its 1979 BBC Proms premiere under dedicatee Michael Tilson Thomas, and after close to 100 performances is now regarded as a classic work of its period.
Oliver Knussen Composition Timpani and Percussion Requirements
Flourish with Fireworks
Timpani + 4 percussion + celeste
Spring coil, 3 Japanese wood blocks, clash cymbals, 2 suspended cymbal, glockenspiel, vibraphone, whip, tenor drum, tam tam, triangle, orchestral bass drum, bass bow, snare drum, celeste
__________________________________________________________________________________
Higglety, Pigglety, Pop!
No Timpani + 4 percussion + celeste
Vibraphone, 5 suspended cymbal, timpani, castanets, tubular bells, Chinese cymbal, swanee whistle, xylophone, 2 triangle, tambourine, 2 temple bells, maracas, tam tam, 3 ratchet, whip, clash cymbals, 2 anvils, glockenspiel, snare drum, sleigh bells, sizzle, ref's whistle, wind machine, orchestral bass drum vibraslap, celeste. (offstage) 7 bells, 3 anvils, ref's whistle, snare drum
__________________________________________________________________________________
Horn Concerto
2 Timpani + 2 percussion + celeste
Maracas, suspended cymbal, 2 tam tams, celeste
__________________________________________________________________________________
Songs and a Sea Interlude
No Timpani + 4 percussion
Vibraphone, 2 tubular bells, 5 cowbells, 3 suspended cymbals, 5 temple bells, 2 pairs clogs, tenor drum, xylophone, anvil, sizzle cymbal, maracas, whip, 2 orchestral bass drums, 2 glockenspiels, spring coil, 2 tam tams, tambourine, claves, wind machine
__________________________________________________________________________________
Symphony No 3
2 Timpani + 6 percussion + celeste
Clash cymbals, triangle, tam tam, anvil, 2 tambourine, 2 octaves crotales, 3 suspended cymbals, hi hat, 2 orchestral bass drum, 2 temple bells, whip, maracas, bongos, claves, glockenspiel, xylophone, marimba, snare drum, tenor drum, tubular bells, 2 vibraslap, guiro, celeste
__________________________________________________________________________________
The Way to Castle Yonder
Timpani + 4 percussion + celeste
Tam tam, 2 tubular bells, suspended cymbal, vibraphone, tambourine, sleighbells, castanets, orchestral bass drum, triangle, snare drum, glockenspiel, vibraslap, celeste
__________________________________________________________________________________
The Wild Rumpus
No Timpani + 4 percussion
Vibraphone, 2 triangles, 4 suspended cymbal, 3 temple bells, tenor drum, 6 tom toms, xylophone, anvil, 2 orchestral bass drums, sizzle cymbal, glockenspiel, tam tam, tambourine, maracas
__________________________________________________________________________________
Where the Wild Things Are
No Timpani + 4 percussion
Vibraphone, tubular bells, 2 triangles, 4 suspended cymbals, 4 cowbells, whip, temple blocks, clogs, tenor drum, 3 tom toms, 2 anvils, sizzle, flexatone, maracas, 2 orchestral bass drums, balloon with pin, glockenspiel, wind machine, spring coil, tam tam, gong, claves, vibraslap, tambourine
__________________________________________________________________________________


All composer images remain the copyright of their respective owners. Any use of images by this website is purely for educational purposes only and not commercial gain. If you wish for your image to be removed, please email us at info@bellperc.com and we will remove this as soon as possible