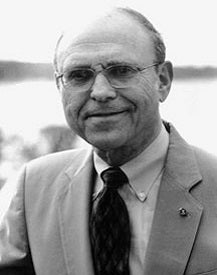 (b. 1928)
Samuel Adler was born in 1928. He has written prolifically for the Hebrew liturgy and has been consistently active in the American cantorial and Jewish music infrastructure. Adler was born in Mannheim, Germany, where his father, Hugo Chaim Adler, was a respected cantor. After the family's immigration he became his father's choir director at the age of 13. Adler studied composition with Aaron Copland, Paul Hindemith, Walter Piston, and Randall Thompson, and conducting with Serge Koussevitzky. He was music director of Temple Emanuel in Dallas from 1953 until 1966, when he became professor of composition at the Eastman School of Music. His compositions include more than 400 works spanning nearly all media, apart from his large liturgical output. Adler has served on the faculty of the Juilliard School since 1997, while remaining professor emeritus at Eastman.
Samuel Adler Composition Timpani and Percussion Requirements
Concerto for Orchestra
Timpani + 4 percussion
2 octaves crotales, glockenspiel, vibraphone, marimba, xylophone, 5 tom toms, clash cymbals, suspended cymbal, tam tam, triangle, 5 temple blocks, orchestral bass drum, snare drum
_______________________________________________________________________________
Symphony No 5 "We are the Echoes"
Timpani + 3 percussion
Snare drum, tenor drum, orchestral bass drum, clash cymbals, suspended cymbal, sizzle cymbal, triangle, bongos, tam tam, 2 octaves crotales, glockenspiel, xylophone, vibraphone
_______________________________________________________________________________


All composer images remain the copyright of their respective owners. Any use of images by this website is purely for educational purposes only and not commercial gain. If you wish for your image to be removed, please email us at info@bellperc.com and we will remove this as soon as possible